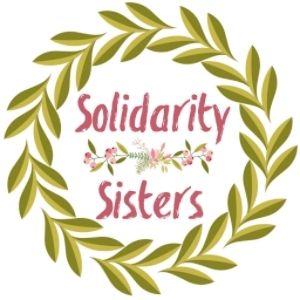 I can't believe it has already been a month since the last
Solidarity Sister
link up. This monthly sister swap has been such a great experience. Meeting all of the new bloggers and getting to know different bloggers from all different walks of life has been a blast. This month I was lucky enough to get to know 2 awesome gals!
Grady from
Grady Bird Blog
was so exciting and just full of life. She is a newly wed and on her blog she shares about all of their newly wed moments and all the fun stuff leading up to the wedding. She loves the theater and shares that passion with her husband and they are able to do that together. It's been a blast getting to know here and meet a new blogging sister!! Check out her blog if you get a chance!
Angela from
The Triplet Farm Blog
was a total sweet heart getting to know. She was so cute and spunky and always full of life in her emails. What I loved was when she said, "I don't really live on a farm." She raises her three kids with her husband in the city but they are looking forward to moving back out into the country in the near future. Her kids are cute as pie and her will bring a smile to your face. Stop on by and check out her blog as well.
As you can see getting to know all of these gals has been a blessing. I look forward to the emails in my inbox and getting to dive into someone else's life for a short time and get to know them.
If you are looking for a great way to get to know other bloggers this is a great way!