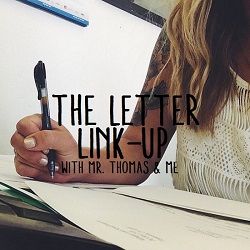 Dear Chris,
It's hard to believe that we are coming up on 2 years of marriage. It's amazing how time flies. I really just feel like yesterday we were planning the wedding and I was walking down the aisle and we were jetting off for a week together.
I feel like we are just getting started together and other times we have been married for 50 years. I enjoy the nights that it's just me and you going out for dinner. I know we can never agree on a TV show and 2 TV's are a must in our house, but it's still nice to sit down and watch a show together even if one of us doesn't really like it.
I'm looking forward to moving into our first house together. It will be like getting married all over and starting a new part of our lives. I'm thankful that your parents have let us crash at their house, but I am looking forward to a place of our own. If the weather would cooperate we could get there faster.
I'm looking forward to many more years of marriage with you. We are still getting to know each other each and every day. There are some days where I have to scratch my head at something and other days you do something that makes me love you even more.
Looking forward to many more...we have survived two the next 50 can't be to bad!
Love,
Sarah